It has been twenty-four years since that cloudy and rainy June morning in downtown Lima. I was stopped in a busy park by a teenager, asking if he could shine my dusty shoes for one sol….
Daniel Cateno Velasco was 16 years old, growing up away from his family to support himself and not be a burden to his ailing parents who struggled to keep their small farm and younger siblings 200 kilometers away from Peru's crowded capital city. In conversation he confessed to being hungry and unable to secure a roof and a meal everyday. He said he missed his family and that he wished he would go back to weave and help his parents keep their looms busy making tapestries and rugs to sell in the local markets again. There was no wool, there was no food, there was no work but there was terror and fear. It was 1997, Peru was emerging from fifteen long years of internal terrorism and the population was in survival mode.
Daniel shared his story with me while he briskly shined my leather shoes to a perfect shine.
I was in Lima to list for sale my family's textile factory that had just been vacated by a tenant after 18 years. The place was left a mess and needed to be sold to avoid further damage to the buildings and possible invasion by squatters. In our short conversation while Daniel was at work I mentioned to him what I was doing in Lima and I spilled to him this revelation that crossed for an instant my mind, "wouldn't be great that you and your family could have a place to weave and live while the work never stopped and you got paid fair for your work?" He just laughed and ignored that possibility as unthinkable and unreal. The light at the end of the tunnel remained very far away, a dot in the dark horizon. Peace and prosperity seemed a world away.
Over the following 6 weeks we setted up looms, dye vats, spinning wheels and bought all the raw materials to weave. We adapted a section of the factory as living quarters, another for an office and finished inventory room. The sewing room and shipping room followed. Over the next few months we adapted the factory into an artisan workshop with one dozen artisans and a couple of staff members to finish and pack cargo. Meanwhile I travelled around driving my van visiting stores offering the work we produced. In the first year I drove 48,000 miles, flew to Peru 3 times and invested all my savings in building the workshop's production areas like pottery room, knitting room, painting room, jewelry atelier, industrial loom wing, print and pelt rooms. The first years passed and we had 33 artisans and staff members working and living at 858 Calle San Francisco. We were the only ones in the long block that made our products by hand amidst the loud factories that produced lycra, grocery carts, blinds, plastic hangers, jeans and wooden furniture to name a few of our immediate neighbors.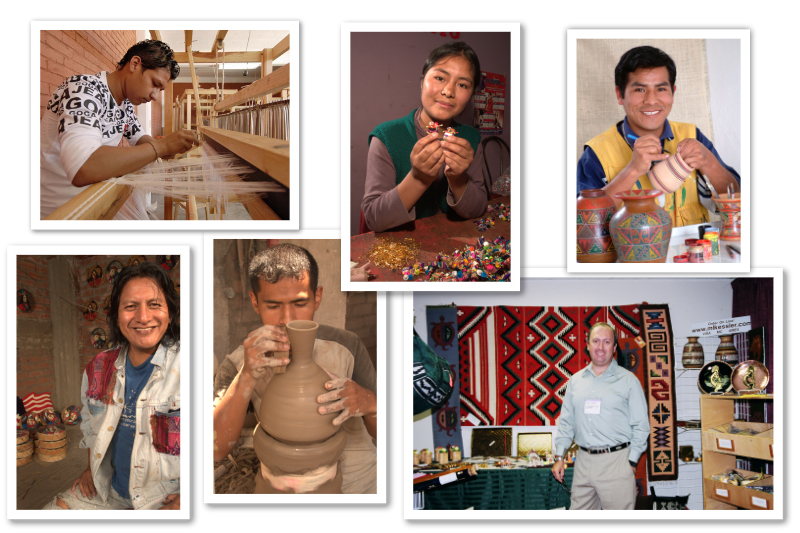 Our Denver Mart showroom followed when we just employed over 50 artisans and 4 staff members. At that point our mission focused on fair trade and the quality of the lives of our team and the families working in the remote villages in the highlands of Peru. We made decisions as a group and for the benefit of everyone, the construction and remodel of our facility was completed and was artisan centered with an environment that welcomed creativity and inspiration for the many skills that produced at the artisan center. As the years passed artisans and staff members grew closer and prospered we saw families formed, kids grow, skills developed and general wellbeing become the norm. Our business grew and now over 112 families were benefiting in Peru and in the US from Sanyork Fair Trade's success.
It had been a long time since that cloudy morning when I met Daniel and then Katty, Lucia, Rocio, Luz, Jose, Hugo and Willy our first tiny group of talented individuals that built this artisan center that has elevated the work and creativity of the Peruvian artisan promoting their work all over the world. They have raised their families with living wages, sent kids to private school, built homes, sent their students to college, bought vehicles and travelled enjoying their success as skilled individuals. They have extended their hands to teach and welcome other artisans to their group and collectively formed a sizable team that produces sustainably over many years.
I proudly can say that no one has ever quit and that I love what I do everyday knowing that what I do makes a difference in the lives of so many people today. That the culture and tradition survives and that not a single artisan in our group would have the need to immigrate or change their life. Even though I left my country many years ago as an immigrant I helped improve the quality of life of a lot of people there and also employed for a few years a half dozen of hard working Americans here while respecting fair trade values and improving the living standards of many.
Our operation has survived the 2009 recession and now the Covid-19 pandemic, the resilience and perseverance of everyone involved helped our small business model survive. Peru has gone through political and social turmoil, built up their economy and emerged from extreme poverty and improved the level of education in the last 20 years. Today it is not easy to find artisans interested in continuing their traditions and many of the nations cultural heritages are becoming extinct to modern and global influences. Our artisan operation is unique and it survives because there are still people around the world that care about traditional crafts, culturally rich handmade products with a story behind them and socially conscious fairly traded goods. We are proud to be a source of income to so many families and being the sustainable window of opportunity for many to succeed. Our products are appreciated and our mission has lasted through one generation going on two.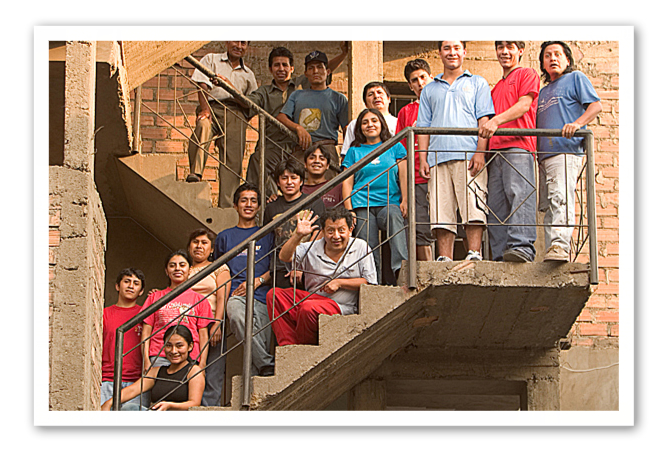 Recent Posts
Dear valued customers,We wanted to take a moment to share with you some important information about …

Fair trade is about empowering the producers making the goods we use every day. Artisans in a fair t …

Incarcerated women, collateral damages to a drug bust or a badly planned drug deal. Sentenced to …